Circus skills workshops are a fun, engaging way of getting a group of people to work, play and learn together. The circus skills workshops I offer can be organised as a competitive event or directed more towards unity within a group. Sessions are structured for adult constructive play and learning. Circus skills workshops by Solo Circus a run in a very professional and inclusive manner. This makes them ideal for corporate events.
Circus skills sessions can be run indoors, or outdoors and I come to you, so the session can fit neatly into your day.
Learning circus skills really seems to put everyone in a group, large or small on a level with each other. Circus skills can be learnt by everyone. Some will learn fast and others more slowly but we can all do it! For those who learn fast I have more than enough tricks to teach to keep them busy for a few years and for those who find tasks involving co-ordination more challenging, I have some very good techniques to get them well on the way to new skills. I also encourage participants to help each others learning.
Once everyone has learnt a basic skill, I start to pair and group people up so that they can start to combine their skills into a joint effort. How this is done depends on what skill is being taught at that moment.
Example of skills I use for a team building exercise. Skills offered can differ due to  space, time and general requirements. All sessions are bespoke.
 1. Ball juggling from basic one, two and three balls.  Leading to pairing people up and learning to juggle with two people and three balls.  This is not as hard as one might think, and is a great way to get beginner jugglers interacting.
For more advanced jugglers I can also teach ball passing which involves two people and six balls.
All of this is a great team building exercise as it really is necessary for everyone to work together in order for it to work.  The throw is more important than the catch – if the throw is good, the catch is easy! This can be applied to many things in work, rest and play.
2. Diabolo juggling.  Each person will learn to spin, throw and catch a diabolo.  Once they have learned this the group can be encouraged to throw a diabolo between two or more partners.
3. Plate spinning.  Plate spinning is actually quite easy and everyone generally gets self satisfaction very fast.  Once learned, I can challenge the group to more challenging tricks and encourage interaction between participants.
4.  Balancing skills.  This includes tight rope and unicyling.  Workshoppers are instructed on technique and safety.  Everyone is encouraged to have a go or provide support to others until ready to go alone!
Other skills available to learn : cigar boxes, devil sticks, hat manipulation, balloon modelling, hula hooping, object balancing & club juggling.
If time will allow, it is great fun for participants to show off their new skills at the end of the session to the rest of the group. I can add an element of competition here by offering prizes to the best performers or most improved jugglers.
 All of the above can be done in two to three hours. I offer circus skills workshops for groups of 10 to  200 and even more. The larger the group, the more professional instructors will be supplied.
There is no limit to how many people I can work with, the more of you, the more of us and the more top quality professional standard equipment.
For really large team building exercises I can arrange to have different groups learning different skills, at different work stations with different instructors and all rotating periodically. Usually the maximum number of participants is about 200, although we have provided for 400!
Drop in style circus workshops
Also on offer is a less structured but fun workshop including all the following skills : Ball and Club Juggling, Devil Sticks, Hula Hoop, Diabolo, Plate Spinning, Object Balancing (on hand, chin, nose and head), Hat Manipulation, Cigar Boxes, Stilt Walking and Unicycling.
I often provide circus skills workshops as pure and simple corporate entertainment without actively guiding the team building element. A great addition to evening entertainment or a corporate funday which requires fun activities throughout the day. Can be combined with circus skills performances too including walkabout jugglers or stilt walkers.
Circus Skills Energizer Sessions
These short but fun sessions are very popular with clients for conferences and away days to get the day off to an energetic, enthusiastic start. These sessions are short and high energy whilst being very inclusive.
Energizer sessions can be provided for groups small or large.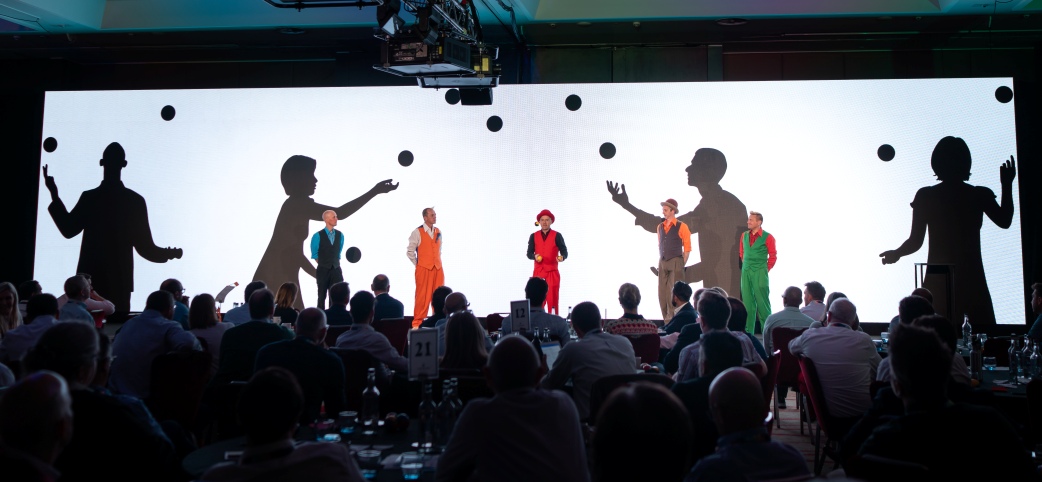 In 2022 Solo Circus & Co provided an energizer session for a client, GBB Coaching & Consultancy. The energizer we ran was part of a 3 day conference in London. The brief…teach 250 delegates to juggle 3 balls in less than 45 minutes. We used 5 instructors with one of us mic'd up leading the session from the stage. The other 4 instructors mingled with the delegates offering ongoing assistance. All 250 participants got to take a set of juggling balls home to continue their juggling journey.
This is the feedback we got after the session…
"Working with Solo Circus was a breath of fresh air from beginning to end, communication was clear and their delivery was beyond amazing.  They did a session for us with 250 delegates in a corporate setting and it was absolutely perfect.  Thank You Solo Circus". 
Bespoke Circus Skills Sessions
Over the years Solo Circus has facilitated many bespoke circus skills sessions for clients. Sometimes it's to fit in with a certain theme or message that a client wishes to implement into a conference whilst adding some fun to help engage delegates.
Past sessions have included small workshops for only 15 people focusing on just plate spinning and others have been a large scale circus skills competition for over 200 delegates.
Feedback sent to events company from an event we ran in June 2023…
I just wanted to drop a quick line to say how amazing circus skills was yesterday! Your team set up so quickly and we could get going right on time! They were hilarious and so interactive – it went above my expectations. They made sure to go around and help people and make sure everyone could achieve something. They are a massive credit to you! The team had a really great time. Thank you!
A few comments from the team:
''I never thought I'd of managed the basic part of juggling 3 balls!''
''I was teaching my daughter how to juggle with tennis balls last evening and the method is a lot easier than previously taught!''
''Thank you so much, my daughter was very jealous that we got to do circus skills at work!! She has been to a few circus skills classes in holidays and apparently they learnt how to pass spinning plates with their feet (not sure I could do that!!)''
''Confirmed I was right not to run away and join the circus, but very entertaining time!''
What to wear
Flat shoes are a must for the tightrope and unicycles, so please instruct your employees to bring some along (maybe don't tell them why!). Comfortable,  non restrictive clothing is also essential for the whole session. If you feel your delegates are up for it, maybe they could all come in circus themed fancy dress! This has been done in the past and certainly creates a lot of fun!
Booking
Please get in touch to discuss your requirements and get a quote. Everything is flexible and can be tailored to your requirements. Solo Circus is a circus skills provider available for direct bookings with clients. Also very happy regularly working with various events companies and agents.
CONTACT
Mark Russell
t. 07785 394964
e. teambuilding@solocircus.co.uk

Website content © Solo Circus 2017
Circus Skills Workshops Home Page
Circus Skills Workshops for Fetes, Festivals & Community Events
Circus Skills  Workshops For School & Youth Groups
Circus Skills Workshops For Hen & Stag Parties