Solo Circus performs as a stilt walker in lots of different costumes and as different characters. I have something for every event, whether it's a smart meet & greet for a corporate, or a daft French chef for a food festival, I can do it!
When entertaining as a stilt walker I make lots of effort to ensure costume looks good and that I perform in an interactive, engaging and fun way. I am cheeky, but also professional. If you need a reserved quiet stilt walker, I might be able to help, but no guarantee!
Stilt Walker Characters / Themes  Available
Comedy Juggler Stilt Walker
Tuxedo Stilt Walker
Angel Stilt Walker
Pirate Stilt Walker
Disco Stilt Walker
Victorian Juggling Gent Stilt Walker
Victorian Policeman Stilt Walker
Cyclist Stilt Walker
Scarecrow Stilt Walker
English Country Gent Stilt Walker
French Onion Seller Stilt Walker
French Chef Stilt Walker
French Chef & Waiter Combo Stilt Walkers
Best of British Stilt Walker
Morris Dancer Stilt Walker
Mexican Themed Stilt Walker
Various Colour Themes Stilt Walker
Wizard Stilt Walker
Circus Stilt Walker
Masquerade Stilt Walker
For information on the above stilt walker characters available, please visit Comedy Characters.
Bespoke stilt walking characters / costumes can be made to suit your event. Please get in touch to find out more.
Whilst performing as a stilt walker and having a banter, I also show off my juggling skills , so not only do I look good, I am also entertaining.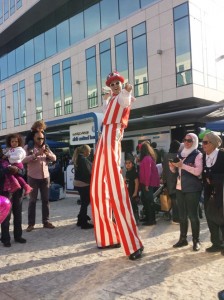 Solo Circus also performs something rather rare in the world of stilt walkers…
The Stilts Bicycle!
Yes, a bicycle ridden whilst wearing stilts. This bike is a mountain bike converted to be about 6 feet tall, which allows me to ride the bike as a stilt walker. This is great for events needing a roaming entertainer to cover a large area. For example, for the last 4 years I have performed with the stilts bike on the fantastic Ride London event as part of a trio. During this event, thousands of cyclists take to the streets of London and there we are , right at the center of it all, entertaining as we go!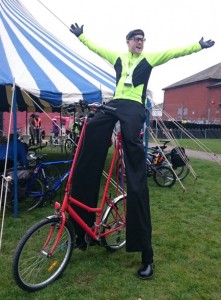 Different costumes are worn creating different acts including the racing cyclist, comedy juggler and French onion seller.
Perfect for cycling events and many others.
See Cycling Entertainer for more info.
Get in touch for more information and a quote.
CONTACT
Mark Russell
t. 07785 394964
e. info@solocircus.co.uk