Since 1998 Mark Russell and Steve White met, juggled together, and then became known as
Phillippe – Philloppe aka Comedy Jugglers.
Many happy years have passed working together as we have performed from Bromsgrove to Beruit and Evesham to Egypt.
Together, we perform some fantastic juggling that is not possible with only one person.
Some years later, a certain Jem Maynard Watts joined us on our travels and then there were three. Between us, we perform as a trio or different double acts depending on who is available.  All three of us are  solo performers in our own rights, all with a different style, but all very compatible  and complimenting each others performance.
Together we provide huge circus skills workshops with tons of equipment for festivals, fetes and corporate events. We also perform as various comedy characters as well as performing juggling and fire shows.
Most of the acts performed by Solo Circus can be performed as a double or triple act. We are,in fact, the country's only stilt bicycle triple act!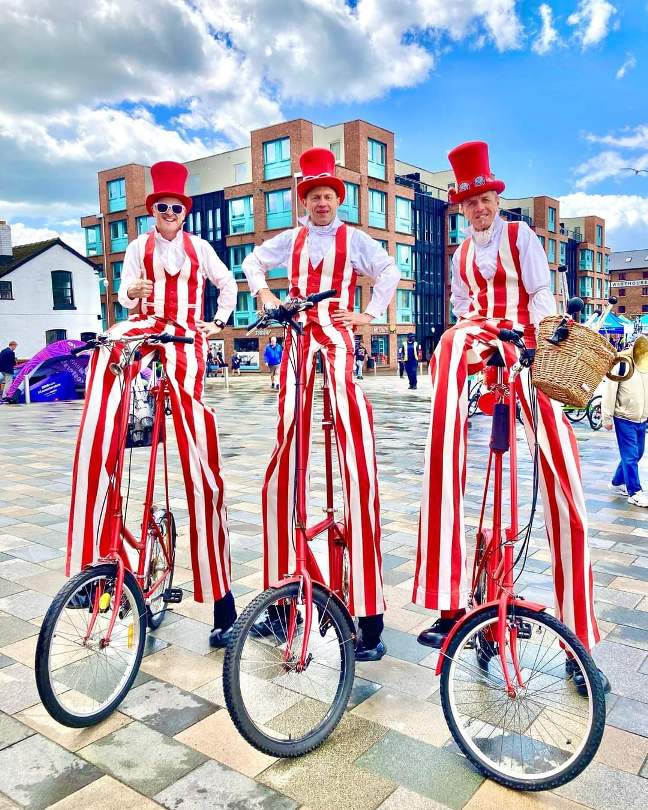 When an event requires even more performers, we all have contacts to call on. So if you need a tribe of performers, we can assist.
CONTACT
Mark Russell
t. 07785 394964
e. info@solocircus.co.uk