Welcome to The Circus of Eccentric Cycles presented to you by Solo Circus aka Mark Russell, cycling enthusiast and purveyor of cycle related and other circus entertainment since 1994. 
I provide Comedy Cycling Entertainment suitable for Trade shows, Cycle Festivals, Green Events, Cycle Races, Sportives, Brand / Product Promotions, and any event cycling related or otherwise.
There are five types of cycles used in the performances of Solo Circus, these are the Stilt Bicycle, the Mini Clown Bike, the Sea Sick Bike, the Penny Farthing and various Unicycles. On many cycle events, a combination of the different bicycles can be used, often with a different costume on each one!
A cycling entertainer can be adapted to almost any event whether the event itself has any cycling roots or not. The stilt bicycle, sea sick bike and the penny farthing are all great additions to an event where a large area needs to be covered by an entertainer, for instance a city centre, large fete or any type of festival. On the other hand, an eccentric cycling entertainer would be a great addition to an event which is actively promoting cycling and/or green issues.
Previous cycle related events performed at include the Tour of Britain, Tour de France, Giro d'italia, Tour Series, Ride London, the opening of Peterborough's Green Wheel cycle routes and various other cycle road shows and events throughout Bike Week and the rest of the year.
Bikes
Stilts Bicycle. This was new in 2003. Just in case you can't comprehend a stilts bike (you are not alone!) let me fill you in. Solo Circus' stilts bike is a converted 15 speed mountain bike. The seat and handle bar stems have been extended to approximately 6 feet high. It is as a normal bicycle only taller. What is not normal (in fact rather rare) is that the bike is riden whilst wearing a pair of stilts! A great walkabout act that really catches peoples attention. On board, a basket of various props is carried so that I can stop and entertain with my juggling skills or just stop for a daft chat. A mini sound system is also often carried to give some low level musical ambiance to the performance.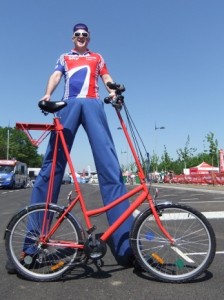 The Stilts bike is a great roaming act. A real jaw dropper for events with enough space for a comedy character to ride around entertaining on a six feet high mountain bike! Ideal for town centre events, fetes, festivals and anything else you fancy.
This is a rare act mainly due to the fact that most stilt walkers are not quite mad enough to ride a bicycle whilst wearing stilts! I do however know a couple of other nutters who are mad enough so why not book two or even three stilt cyclists.
Performed in various costumes including Olympic/racing and French onion seller.
The Penny Farthing used by Solo Circus seems to create a real stir in public places. The sight of a Victorian style policeman cruising up the street blowing his whistle and honking his hooter really does give rise to many smiles and much laughter.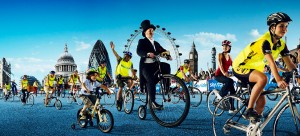 The Penny farthing is also performed in various other costumes including… Mr Dandy Doo – Victorian gentleman / juggler, traditional cycling gear with a twist and the latest Character in the saddle, the Vintage Country Gent, pedalling about in his finest tweeds… absolutely spiffing!
When performing with this bicycle small personal performances of juggling etc. are provided around your event.
The Mini Clown Bicycle is a really silly mix & mingle act. The mini bike is suited well to smaller areas than the stilt bicycle, places such as shopping centres are ideal. Solo Circus cruises about and stops for a bit of daft banter here and there.
Unicycles are used by Solo Circus in static juggling  shows during the finale, and for mix & mingle entertainment. Usually the finale will consist of a five or six feet high unicycle being ridden whilst juggling clubs, knives or fire. A combination of an axe, knife, fire tourch or rubber chicken are also juggled on the tall unicycle.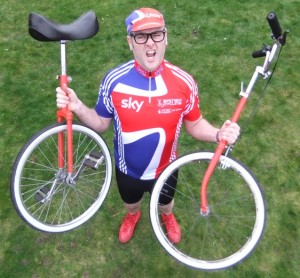 Smaller unicycles are often used for mix & mingle performances. A standard size unicycle is used for this usually with a set of detached handle bars and wheel. This is really popular with the public as with all the other bikes it produces lots of comedy moments!
Sea Sick Bicycle. This was new for 2010. The sea sick bike is a stripped down folding shopper with a fixed gear, painted bright red with eccentric wheels. This basically means that the wheels are off centre and the bike goes up and down as I cycle along.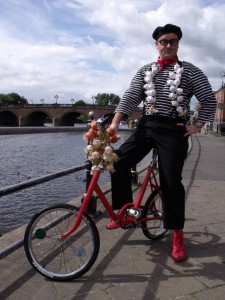 This quirky looking trick bike has been going down very well since it's creation, a true clown bicycle!
Comedy cycle performances
All the circus bikes mentioned on this web page are performed in a comedy mix & mingle style rather than a static show. Although the tall unicycles are used in shows and a short mini show with just these can be provided.
During an event, any combination of the trick bikes can be used / performed. Often with a different costume on each one. This is a very unique package of cycle related entertainment you are unlikely to find anywhere else.
The One Man Circus of Eccentric Cycles gives a real element of fun to any event, but is an excellent choice for an event which wishes to encourage cycling as a fun activity for good health, low environmental impact, practicality and sheer enjoyment. Which lets face it…cycling is all of this!
To get a quote for a performance please get in touch.
Testimonials
All the testimonials below are from recent clients for whom I have performed my comedy cycle acts.
"You won't be disappointed, he's fantastic fun!"
---
"We bumped into Mark (literally) at another event in Northants and he came across as being very engaging and seemed to enjoy what he was doing. I then approached him about the tour series and he was excellent. Nothing was too much trouble even though he had to get there early due to road closures. We had a small problem with the road closures on the day and rather than add to some of the issues he went off and helped us entertain the crowds and took some of the pressure off us."
---
"Mark performed at the Oldham round of the Halfords Tour Series in June 2012.
He was punctual, and pleasant to work with. He has a natural rapport with people and was able to give the event an added positive dimension. He is conscientious and shows commitment in helping to deliver a successful event.
I would have no hesitation in employing Mark again as a Solo Circus."
---
"Mark performed at our Family Bike Fest last year – this event is attended by about 500 people, mostly families with young children, and the aim is to provide a fun day out with a wide range of activities.
This was the first time we had worked with Mark and he was great. He has a very wide range of skills, engages with people of all ages, and changes his costume/act during the day so that there is always something new in his performance even if people are staying all day. He was very adaptable eg taking part in some of our events and not just performing on his own.
We will certainly book him again, in fact we have already tried to do so but he was booked up for the date we wanted."
---
"Mark was extremely professional and accommodating throughout the entire process. We initially booked Mark to work with us for a three day stint in June 2010 for Bike Week in Chester. He turned up with a diverse range of entertainment equipment and costumes to entertain the passing members of the public. I have to say that much of the attention we received on the day were down to Mark and his ability to engage with the public and increase their interest in what we were trying to promote.
Mark has a range of equipment and abilities to be able to suit different types of terrain and audiences, meaning that there was never a dilemma as to the type of 'character' he was becoming. Mark was so popular with the public (and our team) that we invited him back to join us for a large scale family event we held March 2011, again in Chester and again he proved very popular with parents and children.
I have no doubt that when our events start running through the LSTF or other funds, that we will be back in touch with Mark to make sure he's available for our own."
CONTACT
Mark Russell
t. 07785 394964
e. info@solocircus.co.uk